[en] I Mouthfucked My Mother-in-Law
We lived 80 miles north of my wife's parents but visited them every couple of months. I was not thrilled about going as I had knocked the wife Linda up when we were in school and needless to say, made the parents unhappy with me. About 6 years later was when this occurred as I was working thru the week were they lived and only went home to get blowjobs off their cock-sucking daughter. Then Linda wanted me to take some sewing to her mother and I did, calling her from work on Monday. She told me to bring it by the net day at lunch which she would fix for me. Normally I went to the cafe with the guys but said OK. When I got to her house she was dressed in a light dress that was cut low over her big tits.
Lunch was on the table, so we ate and then moved to the living room. Surprising she sat beside me on the couch. She then says:
– I know Linda sucks you off because I saw her do it last time you were here. (Linda had to have her daily cum fix, no matter what and I guess Momma had peeped in the door as she was doing it.) Well big deal, we were married. Then she says: – I want to suck your big cock off too – and with that reaches for my pants zipper. I tell her:
– OK but I want get those big tittes out so I can play with them – and she does. She then gets on her knees and takes my cock in her mouth but does not do anything. After a minute or two I ask if she had ever sucked cock before and she replied no, she tried years ago on her husband but he said only whores did that. I tell her she has been fucked as she has 3 children so to pretend her mouth is her pussy and then fuck my cock.
With those instructions she starts moving on my cock and I tell her to hold it with her hand so the head is skinned back and she does. She sucks me off as I play with her nipples, surprising her tits were bigger than I thought, and not all that droopy, and her nipples are sensitive. After 10 minutes or so I shoot off a big load in her mouth and then she spits it in a kleenex.
She then tells me she liked that and it was the first time she had any kind of sex in 5 years. She was about 40, I think. As we are sitting there talking I run my hand up under her dress and get to the panties and she says NO. I tell her I am only going to play with her pussy, not fuck her, and then she lets me take off her panties. Not to my surprise, she has a big cunt, just like her daughter. I slip all 4 fingers in it and then use my thumb on her clitoris. It was obvious she had never cum before, and within a couple of minutes, did. I had been sitting up and now lean over and get a nipple in my mouth and start on her cunt again. She comes off for the second time and just shakes as she does. I pull my hand out of her huge cunt and wipe it on her half slip.
– So – I say – it's about another one blowjob and this time don't spit it out, but swallow your reward. – She looks at me and then says:
– OK – and gets back on her knees and goes to work on my cock.
I am getting my cock sucked by my mother-in-law and thinking now I know where her cock sucking daughter inherited this and before long start to feel the cum rising. I warn her I am about to cum so, she should be ready and she nods her head just about the time I let flew with another huge load of cum.
This time she stays on it and I can tell she is swallowing
She sucks it dry and I pat the top of her head and tell her good job, then asking are going to do this again and she nods her head "YES" with my cock still in her mouth. By this time I need to get back to work and as I leave ask when is next time. She says:
– How about Thursday? – and that's when it was.
I was there for 3 more weeks and every Tuesday and Thursday got my cock sucked, twice every time and brought her off the same way with my fingers. Nothing happen after that for almost 2 years and then we were there for the weekend and I ended up with her alone as Linda was out with her sister for the afternoon and he husband played golf every Saturday. After Linda left just after lunch I was watching TV and she came into the room and she had changed clothes to something that made it easy to get her tits out and make her pussy available.
She walked over to where I was sitting, never said a word, and dropped to her knees in front of me and got my cock out and sucked off a nice load, swallowing it when she sucked it dry. Then she laid down on the couch and pulled her skirt up showing me she had no panties on. I walked over and slipped my complete hand in her huge very wet cunt and put my thumb on her clitoris and started rubbing. Within a minute she came off. I then moved back to the chair and had my cock out which she sucked off again and swallowed like she did the first time. She got up and laid on the couch again and it was obvious she wanted more finger-fucking, which I did with her cumming again.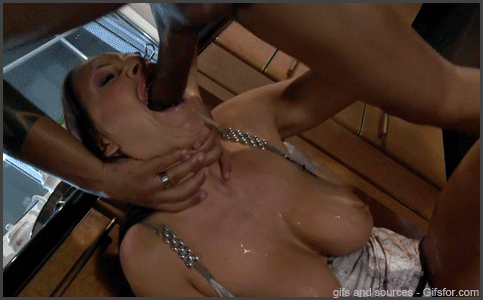 That was the last time we ever did anything as I moved again and saw them only a couple of times a year. We were there I caught her smiling at me and then she would lick here lips. My cock would tingle when she did it and I would have loved to drop another load between those lips.
You'll also like these stories: