[en] [swingers] Switching with another Couple
My boyfriend Chad and I had been going out for about five months, when the subject of swinging came up. We discovered we were both interested in it, and decided we would try it out. We weren't quite sure of where or how to start so we looked through some ads about switching placed on the net, but didn't find any that really interested us. And being fairly new to our area, didn't know of any clubs where we could find what we were looking for.
I have been bi for a while and I definitely enjoy being with another woman. We wanted to meet some friends who thought the same way we did, and were open minded about trying new things. We had discussed how we wanted things to happen and what we wanted to do. We wanted all of us to fuck in the same room as everyone was watching each other, but other than that were quite unsure of what was expected.
One weekend we decided to go shoot pool at one of the local bars. We ordered a few drinks and as we were shooting pool this couple walked in the door. The sight of them made our heads turn, especially the woman. She was a brunette, with beautiful green eyes. She was about five foot seven with a little bit of weight on her. Her most amazing characteristic were her tits. We couldn't even guess their size as they spilled out of her shirt! Both of us were immediately turned on by this couple! They sat down at a table near ours, and it didn't take us long to challenge them to a game of pool. I was getting wet just watching her bend over to shoot the ball! When we had finished the first game, her boyfriend Phil suggested we make a friendly wager on the next game. We were all for it! Turns out, his wager was sex!
We lost the bet and Chad and I certainly didn't mind. They had an apartment near the pool hall, so we all made our way over there. As we walked in the door, I grabbed Chad's cock and gave it a good squeeze. He was rock hard! Phil and Jamie led us into the living room. If they had any sense of smell they could smell my sex because I was dripping! They must have done this before because as they were leading us in they started taking their clothes off. We began to do the same and in no time we were all naked.
They must have done this before. They were all about switching!
The guys sat down on the sofa as Jamie and I went to them. We immediately took their cock's into our mouths. As we were sucking them, it was almost like a contest to see who could be the first one to deep throat their cock. Then we started switching. As the guys stood up in front of us we would go from one to the other. We were both on our knees with our hands between their legs and on their asses. We would pull their asses forward as we face fucked ourselves with their cocks.
I almost never use my hands on Chad's cock because I want him to see everything I am doing to him. I want him to be able to look down and see his big cock parting my lips as he is going in and out of my mouth. As my eyes meet his I want him to see how much I love sucking him and how much I love his cock. While we continued doing this, I looked over once to watch Jamie. I wanted to see what it was like, in person, as a big tittied woman was sucking cock. It was so beautiful that I could have stopped, doing nothing else the rest of the time, and just watched her perform. To watch her beautiful face being fucked as her huge tits swayed was almost enough to make me cry with sheer happiness.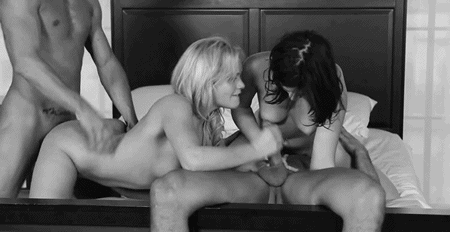 Jamie grabbed my head once while we were switching cocks and kissed me deeply. The feel of her tongue in my mouth was incredible and I could taste both Phil's and Chad's cock in her mouth. Our bodies and tits were pressed together and I felt intimidated because they were so large. She must have felt my tension because she grabbed my head and gently brought my mouth to her tits. One tit was as big as my head but she was so gentle that I just melted in her hands. She held one hand under my chin as she used her other to hold her tit. She brought my head forward as my mouth found her nipple.
I had sucked tits before but nothing could have prepared me for this. I had always wanted to be with an extremely endowed woman and I thought I would be prepared for it but I guessed wrong. It was the most amazing thing that ever happened to me! I knew that after this was over I would never be with a small woman again. Nevertheless, as my moment of heaven continued, the guys made their way down to her tits. It seemed like an eternity but we all just sucked and licked her tits until, as it seemed, we were done with our feeding.
Chad laid down on the floor. His cock was sticking straight up in the air. I straddled him and as I did I lowered myself and squatted right on his huge cock. With one sitting motion I took him deep inside of my soaking pussy. I took him all the way into me which caused my eyes to roll back as a huge moan escaped my mouth. I gained a small amount of composure and as I did I looked over and saw that Phil had also made his way to the floor. I turned myself around on Chad's cock because I had to watch Jamie as she rode Phil, because we were switching.
I cannot explain what it looked like when I saw Jamie with her huge tits sit on Phil! The two of us started riding and bouncing on their cocks. Jamie's huge tits were bouncing all over the place and even though I loved what I felt and what I was doing I could not quit watching her. We began to stare at each other as we continued to ride the guys. After a couple of moments she threw her head over her shoulders and arched her back. I saw this an opportunity.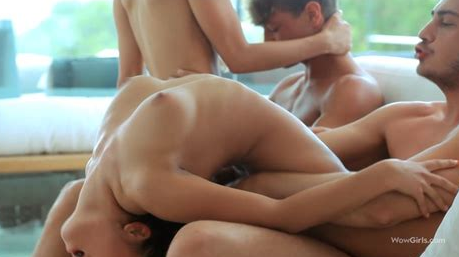 While she was doing this I leaned over and took one of her tits into my mouth. I felt my pussy tighten as the first orgasm hit me. It was incredible! I didn't know how much more I would be able to take, but I knew that there was no stopping that night!
Jamie knew how much I was obsessed by her. She then got up off of Phil, came over to me, and pulled me off of Chad. She threw me down on the floor, straddled me, and squatted right on my mouth. I was shocked even though I knew what I wanted to do. All I seemed able to do was stare at her enormous tits. She grabbed the back of my head and shoved my face and tongue into her pussy.
As my tongue found its way around her pussy Chad came up behind Jamie. He gently bent her over and as he did he entered her ass. Almost as soon as he entered her she came. I continued to eat her while she was being ass fucked. Then Phil came over and started face fucking her. This kept up for a while and then Phil made his way to my wet, waiting pussy. He threw my legs up so Chad could hold them. He would fuck me for a couple of minutes then pull out and take his cock to Jamie's mouth. He kept this pattern up for some time.
Just knowing that she was tasting every bit of me on his cock made me cum again and again. This time when Phil went to Jamie's mouth he exploded into her. She readily sucked and swallowed as much of his cum as she could. At the same moment, Chad pulled out of Jamie and shot a huge load of cum all over my face and tits. I was able to see both cocks shoot and as they did I came again.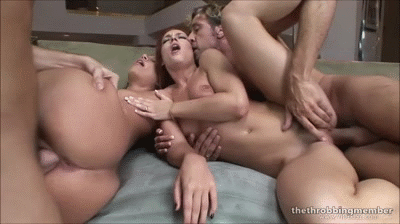 The four of us go out every weekend to shoot pool now, and always add to our bets, while switching! Jamie and I have some new ideas we want to try with our guys, so the next time we play it will be guys against girls!
You'll also like these stories: