[en] [revenge-sex] Good Job, Cock Sucker!
After the ass fuck in the afternoon she sulled up and was not talking, which was fine with me. I figured a divorce was coming, so I got my miniature tape recorder and hide it behind a book at my chair in order to catch my Cock Sucker wife in crime. I called her into the room and I ask her when did Larry started fucking her. She said a month ago when I was gone for 3 days, he came over the first night and ended up getting her drunk and forced his way on her. She was afraid to tell me, as she thought I might kill him. I said:
– Just what did he do to you? She told me:
– He loaded up a drink and it was real strong. – Soon after she drank it he forced her down on the couch and tore her clothes off her. Then he made her suck his cock and when he came, made her swallow it. Then he laid on her and fucked her. She said she did not want to, but he made her cum. Then he left and the next told her how sorry he was.
She just figured she would keep it to herself, since we had been friends for years as we both lived in the same apartments as now for 6 years. I said:
– Well, how about the second time? – She said:
– When you were upset at me over forgetting to pay the power bill, and left on your trip mad, he came over and took advantage of me. – I ask just what happened that time. She said: – The same as the first time, he started fucking me and when he got ready to cum, made me take it in my mouth while he finished and then swallow it. Then he fucked me from behind. – I ask:
– Did he make you cum again? – And she said yes, but it was never as good as with me.
So then I asked just how did last nights suck/fuck come about. She said he came over knowing I were gone and told her either to let him have his way or he was going to tell me she had been letting him do her any time he wanted to. I said:
– The fact he made you cum with his big cock never entered into it. – She did not answer. I said: – When he told you he was cumming while fucking you from behind, you knew exactly what to do – why? – She said it was what he always made her do before. I said: – I might believe you, except I saw you kiss him and then told him how much you loved him fucking your mouth and cunt afterwards. – By this time I had all I needed on the recorder and with the right editing, her ass was grass when it came to a divorce.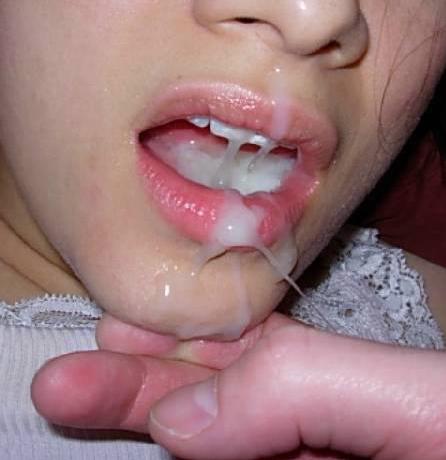 Telling me all this was starting to give me another hard-on, so I tell her to get over here and get on my cock with the cock sucking mouth of hers. She said:
– I don't want to – and I respond:
– I personally don't care what you want, Cock Sucker, and that's what I am calling you from now on – Get over her and I take my shorts down. She just sits there so I get up and walk over to her and tell her to start sucking. She says no, so I slap her ass but not too hard.
I tell her she is a Cock Sucker and that's what she is going to do
She then gets on knees in front of me as I sit down and starts sucking.
– Go deep on it, Cock Sucker – I tell her and pinch a nipple, and she does. I instruct her to lick around on the head of my cock with her tongue and lick up the juice that runs out as I like that, and it will make me cum faster. It's going to take a while since this is #4 for the day. I said: – If you prefer, I can butt fuck you again, as you started to cum last time I did it. – Knowing full well I was not, as the Bitch was going to suck and swallow till I had enough of it. She said her knees hurt, so I tossed her a couple of pillows and told her: – That's how a Cock Sucker keep her knees from hurting. Learn to live with it, Cock Sucker!
The lick job was feeling damn good and after maybe 12-13 minutes I started to build and told her to deep throat so I could shoot off deep in her mouth. That's what I did, and it gagged her, but I held her head on my cock and lots of cum ran down it. I told her to lick it up and gave her a good pinch. She started crying but licked me clean and I told her:
– Good job, Cock Sucker, you are slowly learning.
I made her stay naked for the rest of the day and anytime I talked to her, called her a Cock Sucker. I did some steaks on the outside grill and we had a nice wine with dinner. When it came time for bed, I told her I wanted one more blowjob to make the day complete and she did not argue, just got between my legs and sucked off another of my loads and then swallowed without me telling her to. I told her goodnight and let her know we would start the day with another blowjob. She asked:
– Do I ever get to cum again – and I answered:
– How, by getting fucked in the ass some more? – She did not answer.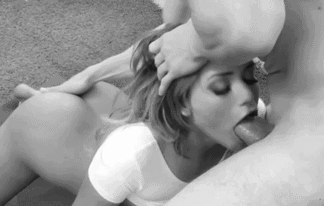 The next morning started out with another nice blowjob and her swallowing my big load. I told her:
– Good job, Cock Sucker – and she started crying and ask was that all I was ever going to do to her. She would like to cum too. I told her to fix breakfast and she got her robe so I told her:
– No-no. Naked, bitch.
Around 11 AM as I watched her on the couch watching TV, I figured it was time for a little more fun so I told her to get in position for her thing. She asked what I meant, and I told her to get on her knees with my cock in her mouth – Cock Sucker. I was getting what I have always enjoyed the best and was going to make the most of it. She said no, so I said:
– OK, put your ass in the air but don't expect me to lube it, as it's better dry. She cries:
– I don't want that – so I answer:
– Then on your knees, Cock Sucker. – With that, I take a nipple in hand and use it to pull her into position. She gets the pillows and sucks me off, swallowing without being told. When she finished, I tell her: – You are finally doing what I want, when I want it and you will for as long as you are here. She asks:
– Are you ever going to fuck me again? – I tell her:
– No, Larry's big cock has broke me of even wanting any of your big pussy, but I like your perky cock sucking mouth. – She storms off to the bedroom and closes the door.
I wait an hour and tell her to fix us some lunch, and she does. Nothing else takes place until around 5 PM. I tell her:
– Guess what – as I work my cock up hard. She asks:
– Is this all it's ever going to be? I need to cum too. – I tell her to call Larry then. She starts crying, so I go into the garage and find a vibrator I used to use on a previous girlfriend or I should say, she used on herself as she sucked me off. I plug it in and sit down in the chair and wag my finger for her to come over. Surprisingly, she does, getting the pillows for her knees and when she gets my cock in her mouth, I hand her the vibe and tell her to use it on her pussy. She nods her head "no", so I pinch her tits and she turns it on and starts using it.
I tell her suck slow and deep and she does, but she is really enjoying the vibe on her pussy. I tell her to move it up to her clit and just as soon as she does, cums off. But she stops sucking my cock. I slap her shoulder and tell her to never stop sucking, even if she is cumming, and she starts again. In a minute or so, I tell her to vibe her clit again and she does and cums off pretty quick. This time it's hard but she keeps on moving on my cock. I tell her:
– See Cock Sucker, you can cum with a cock in your mouth and before long, will be able to cum without vibing. Then you will be a real Cock Sucker, not a trainee like you are now.
I notice she has started vibing again and I pull the plug, so it quits. She immediately asks why and I tell her:
– I am getting ready to unload in your mouth and want your full attention, to go deep and no gagging, then show me the cum in your mouth before you swallow it. – And that's what she did. Then I plugged the vibe back in and made her bring herself off twice while I watched and called her Cock Sucker. That turned me on!
Now, it was ass-fucking time
Nothing else happened for the rest of the day but when we went to bed, It was ass fucking time for spite, but I only used a little lube so it would be tighter. For entertainment I told her to vibe herself as she talked to me, answering my questions. She was more than willing to get the vibrator on her clit and then I ask her was it better than Larry fucking her and she nodded and I told her to answer and pinched a nipple. She said yes. I said:
– You like fucking the vibe, don't you?
– Yes – she answered. I said:
– What else do you like to do? – and to tell her what I wanted as an answer, said: – Suck cock and swallow the cum. – She did not say anything, so I turned off the vibe and pinched her nipple. I told her to answer and turn the vibe back on. I asked the question again and she replied:
– Suck your cock and swallow your cum. – I pinched her nipple and said:
– The correct answer is "suck cock and swallow cum". She said:
– Why do you want to make me out a whore? – I answered:
– Because you are a cock sucking slut, so get used to it.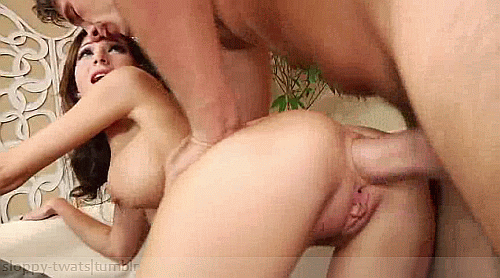 About that time, I made her repeat what I said, she was and turned the vibe on and she came off… hard. I made her keep repeating it and she kept on cumming. After 4 times of that I told her I wanted another blowjob from her cock sucking mouth with her vibing, but I was a nice guy and let her use a wash cloth on me after the ass fuck. I also tell her I will be wanting a blowjob in the morning and to be ready to give it as a proper Cock Sucker. And now not only was she a cock sucking swallowing cunt, but one that preferred vibrating to getting fucked.
The next morning I had set the alarm 15 minutes early so she could suck and swallow like a good little Cock Sucker would, and that's what she did. As I left for work, I remind her this was my place and she should find her own – maybe Larry would let her stay there. She never said a word and then I told her:
– By the way, I recorded what you told me of how you had sucked and fucked him 3 different times, so be sure and tell you lawyer that, as in this state, a recording is legal if one of the participants is on it. So long, Cock Sucker. – She was telling bye-bye, and that was that. And I took the vibrator with me.
You'll also like these stories: