[en] [black-cock] We Sucked Each Other's Cocks
I was in house after beach wearing only a white t-shirt and a black speedo. I will have some time alone… I go to my bedroom, I take off my t-shirt and put down and my speedo. I was now full nude and ready for a bath when I take a look in Atem's bed and here comes again in my mind the day Atem took my virgin ass. My cock was erected and I remember some scenes in porn movies and a position that you are like a dog and they fuck you, so I take this position above Atem's bed and start my fantasy: Atem behind me and fuck me, and to be more real, I put my hand in my ass entrance and start rubbing it like to be Atem's cock.
I don't know how many minutes I was in this position, but suddenly I feel a hand grabbing and rubbing my cock. I, surprised, opened my eyes and I see Atem sitting nude at the bed edge:
– When did you arrive here? – I asked him.
– I am here 5 minutes but it is 2 minutes from where I find you there nude masturbating and you were in my favorite position, so I took off my clothes because I understand your fantasy was me, and, as you can see, I am ready for fun. – He showed me his full erected cock. – I can see that, different from other white boys I had fucked, you have a nice cock. Maybe let you fuck me one time.
I thanked him and I changed the position so I could see his cock better. He come above me and he opened my legs again.
– Don't worry, this time we will not have to do it so fast – and he takes all his body above my body. We were face to face, and also our cocks. He put his mouth on my mouth and start kissing mi while the same time Atem rubbed his cock above my cock.
I liked the feeling of rubbing cocks, but I wanted to try something real…
So, I put my hand in his ass, I find his ass entrance and I put a finger inside him, but Atem stopped it with his hand:
– Bad white boy, my ass is not for you, at least for now. But my cock is for you.
– Are you going to fuck me?
– Yes – he answered me.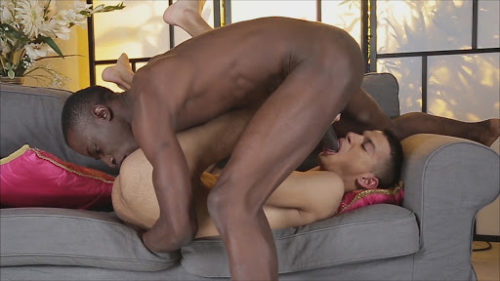 He rises his body and with his erected cock, like a wild animal looking for his prey, this time my ass, but instead, he came again above me, but this time I had his ass to look. Atem laying down on my body, but putting his ass and cock above my face and mouth.
– What are you doing?
– This is another one of my favorite positions, where we can suck each other's cocks – Atem answered me.
– Wait I haven't before – and my words stopped coming out as I feel Atem mouth over my cock and up down my cock, making me feel like I was in paradise. Then Atem started moving his ass with the result of his cock rubbing my face. I opened my mouth and with cowardice and closed eyes I put him inside my mouth. When I opened them again, I had taken him all, until I could feel his balls on my lips. Then, with small moves, I started suck it. It wasn't so terrible, his cock tasted and smelled nice I could also see his nice black ass and hole where I couldn't understand if he was virgin, but someday I will break.
I could hear Atem moan, which is a sign I do good blowjob but he also enjoyed my cock also. We must be around ten minutes in this position, until Atem, without warning, started to put his cock in and out of my mouth and he had put out his mouth of my cock, then screamed:
– Here comes your prize white boy – and still moving his cock, I felt more salt liquids fill my mouth. I was scared, tried to put his cock out, but it was impossible. Finally, he put it out when he finished. I took a breath and said:
– You could've warned me! Atem answered me that the not warning is the fun and smaller white boys than me, they drink him easy. He takes his still erected cock and ass above me and we were again face to face:
– You have some of my liquids in your mouth.
– Your mouth is also wet – I answered.
– I know – and we start kissing with our wet mouths.
Our wet mouths gave us another feeling and Atem whispered in my ear that he wanted to do it in doggy position. I knew what this meant but I was so horny that I couldn't say no to his cock. So I took the position like a dog with my legs open and Atem tried to find something in his clothes and he found a bottle.
– What is inside this bottle? – I asked.
– This is oil – he tells me, and also that this will allow us to have more fun. He put it in his hand and I felt it spread around my ass entrance. – This will help my cock slide in easy, without you feeling pain.
I put my head down and I could see him put a lot of it on his cock, doing him shiny. He put it in his hand and he put it in front of my ass entrance. I could feel him touch my ass:
– And now, white boy, I want you to fuck yourself alone.
– What do you mean?
– I mean take my cock in your ass, but this time you do it alone, so start pushing – I obey and I started to push. The oil really helped and I took his cockhead easy inside me.
But the dick body after cockhead was difficult. I started to feel pain again and like having a big hot wood break in my ass, but after a little pain, I finally feel my ass hit his balls.
– Good white boy! And now I want to see your ass go back and forth over my cock.
– I cannot Atem…
– Yes, you can!
Without other choice I started moving my ass, making Atem moan. My first back and forth was slow but when my ass got used of Atem cock, I really started enjoying it and going back and forth faster. Atem told me that I fuck good but he also wants more, so he started fucking me.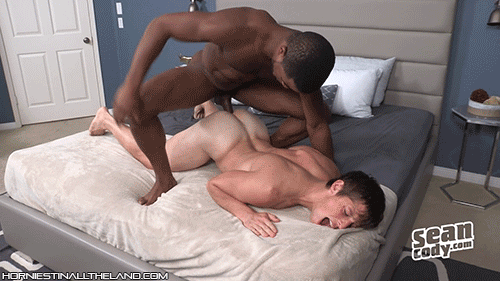 – Ah yes, what white ass I've found to fuck – his balls hitting my ass and he fucked me so strong, that the bed started also going back and forth. Then I hear suddenly Kristy yelling what were we doing. I turn my head and I see Kristy standing in the door with her mouth open. I was thinking what to say to her, but with Atem still fucking me, it wasn't easy.
– We are simply playing. Don't worry, go to your room – but she answered me:
– How two boys fucking is a game?
You'll also like these stories: