[en] [strap-on] New Queen-Size Bed for the New Experiences
So, the day came when we got the new Queen-size-bed delivered and set up! No this isn't about Carrie and the delivery boys, or the salesman and testing the bed before purchasing. It's simply that we decided we needed to replace our old bed with a new one. We discussed a King Size, but we decided it would use up too much space, and since we sleep in each other's arms most all night, and every night, the Queen Size was the best for us.
So we got to looking this sweet rig over, only to discover that the bed we looked at was not as tall as this one. Of course, we got a pillow top mattress instead of the regular one that was on it for display. And this made it about six inches taller. Carrie said:
– I sure hope you don't roll out of bed – giggling. – You could break your leg or something. – I laughed and replied:
– Yeah or land on my dick and break it!
We both got a good laugh!
Then I took Carrie by the shoulders and placed her next to the bed
The top of the mattress was just about waist high to her. I told her:
– Carrie, my dear sweet little cunt, I could bend you over this bed and fuck you from here to kingdom cum! And never have to move my feet!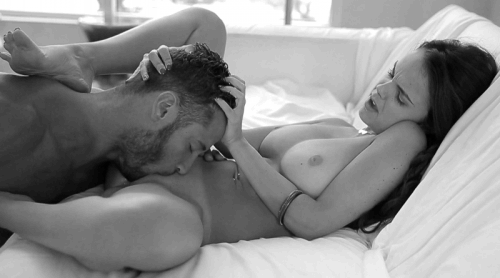 About that time Carrie bent over the bed and started laughing and she said:
– Yes, YES! You could, my dear sweet hot round steak! And I would Love it!
And with that I pulled Carrie's pants down, and then her panties, and stuck my face in her ass and started licking everything my tongue could find. The more I licked the wetter I could feel her cunt become.
I then put two fingers inside her cunt and started working them in and out as I licked her asshole; she was moaning with pleasure! Then she came on my fingers and her love juices dripped down my fingers. I then stood up and dropped my jeans and pulled out my hard cock and put it deep inside of her with one stroke.
I started slamming her as hard as I could, and with each thrust she would moan with pleasure. I took my finger and gently pushed it into her ass; I could feel my cock fucking her cunt with my finger with each thrust. She came again and really let loose with loud screams!
I just kept pumping as hard as I could, she came again before I let loose and filled her cunt with my hot cum! I kept slamming until I went limp. She then said:
– You're not done yet, you get that strap-on and get back to work, big boy!
I got the strap-on out and put it on with her favorite purple dildo attached and went back to work slamming her cunt like a madman. She came three more times before she wanted to switch positions and lay on the bed to get fucked with the strap-on. She proceeded to cum again before she was finally spent. Yeah, I think we are going to enjoy our new bed!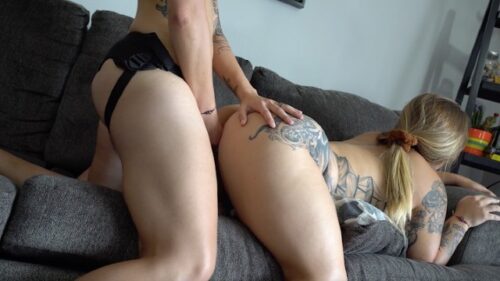 You'll also like these stories: