[en] [he-blackmailed] Dry Humping and Losing Virginity, pt 2
Previous: Dry Humping and Losing Virginity, pt 1
After that weekend I didn't get to see Lorraine for a whole week due to my work commitments. When I went to see her the following weekend, she stopped me at the front door to her house and warned me that her father was on the warpath. It was because of a rather large love bite I had given Lorraine last week on her neck as she climaxed for the second time in a row. Daddy was not amused!
I was in her lounge when he came home from work still in his police officer's uniform. With his height and stature, I felt very intimidated as he sat down in front of me and straight out asked me if I had given Lorraine the love bite during having sex with her. I of course said no we weren't having sex at all to which he told me that if he found out that I was he would beat the shit out of me, then take me to court for as many things he could get away with. When he left me, my knees were knocking together with fright but at least I knew we had to be careful in the future. Her mother, Wendy, took me to one side and said:
– His bark is worse than his bite, so don't worry about him, he's a big pussycat really. Look, I know Lorraine is a virgin, but going by the amount of wet underwear she keeps putting in the washing basket, you two are obviously petting heavily. If I can help you out in any way at all, and I mean in any way, then you just have to ask me, okay?
– Er… yes, thanks – I stuttered as she walked away.
I wasn't too sure about what she was actually saying, but I did notice her nipples were pushing out the front of her bra in an alarming fashion. If I didn't know better, I would have sworn she was coming onto me as well, not what had expected at all.
I took every opportunity to play with Lorraine's pussy and tits and it wasn't until a few months later that things progressed further.
We were in my bedroom with my parents away shopping. I had managed to get Lorraine's knickers off and had been playing with her pussy for ages whilst sucking her nipples. To my recollection, she had climaxed three times but, to my dismay, I hadn't. She had been rubbing my cock through my trouser front when without any cajoling on my part she slid my zip down, put her hand inside my underpants and pulled my rock-hard cock out in the open.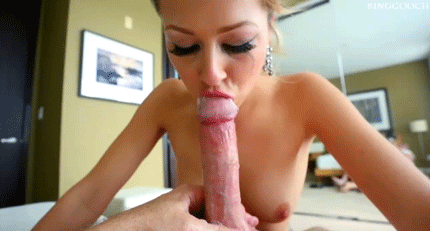 I stopped sucking her tit and looked at her. She just smiled in between pants and slipped down the bed then put my cock into her hot wet mouth! Oh my God! I was in heaven, what had made her do this I didn't know but I wanted more, much more.
She must have been watching a porno film or something because she just bobbed her head up and down like a professional, until I shot my load into the back of her throat. She did swallow some of it, but most slipped out of the sides of her mouth onto the bed sheets. I couldn't believe what had just happened.
– What made you do that? – I asked in astonishment.
– I was talking to a friend of mine who said it was really great, her boyfriend loves it so I thought I would give it a try. Did you like it?
– Oh, baby it was fantastic, I've wanted you to play with my cock for months, I'd given up hope of you ever giving me a blow job as well.
– I don't think I did it right, I couldn't swallow all of your cum, but I'll try to do better next time.
– Did you like doing it? – I asked.
– Yes, I did, my pussy was throbbing all the time I had your cock in my hands and it's so wet now feel.
She opened her legs wide and my finger slipped deep inside her hole amongst all of the juices that had collected there. I fingered her for a few minutes until she was panting hard and moaning like mad again then I slid my finger up onto her little nodule and she exploded in a frenzy.
– Oh Pete, oh Pete rub me Pete, rub me hard.
My finger was a blur as I rubbed her clit as fast as I could until she climaxed again, arching her back off of the bed and rolling from side to side.
Things had developed rapidly over a relatively short period of time and I was optimistic of things escalating to new heights very soon but not everything went to plan!
Lorraine and I were lying on the carpet in front of the fire on a cold miserable winters evening. Her father was away on a course of some description and her mother had gone to see a friend for a few hours which gave us quite a bit of time to ourselves. It was a golden opportunity for both of us to get naked for the first time and explore each other… As we groped and kissed the time away, we gradually disrobed. I sucked her nipples in turn and made my way towards her pussy planting soft kisses along her stomach as I went south.
I could smell the heady aroma of her sex as I got closer, then I saw the soft blonde tufts of her pubes out of the corner of my eye. Her legs parted for me as my hand felt the moisture that had gathered between her pussy lips and my finger slipped inside her.
– Oh God – she murmured as I moved round between her legs and looked at her pussy for the first time.
My finger was still inside her wet hole and I could feel her hymen across its entrance as I pushed it in and out of her causing more of her juices to trickle out. I got up onto my knees, leant forward and let my tongue slide along her virginal slit collecting her nectar as it went. Her hands immediately went to the back of my head and pushed my face harder onto her mound. My finger slid out of her hole and my tongue took over, lapping her lips over and over as she wriggled her bottom on the carpet.
This was going to be the night I would have my first ever fuck, I knew it for sure…
I sat back on my haunches and took hold of my rigid cock, pre-cum oozing from its tip and guided it to Lorraine's pussy. Its head had just made contact with her puffy lips, when the door flew open and Wendy screamed at me:
– Peter, what on earth are you doing to my daughter?!
We had both been so engrossed in what we were doing neither of us had heard her return home. We both jumped up from the floor in shock with Lorraine trying to cover herself up and my once rigid cock withering away at an alarming rate.
– You two get some clothes on, and Peter, meet me in the kitchen by yourself. We need to talk, now! – she was still shouting, and I knew I was in deep shit especially once she told Lorraine's dad, I would be dead for sure.
I dressed quickly and left Lorraine sitting on the couch crying her eyes out. I entered the kitchen and found Wendy sitting on a chair with her arms folded across her ample chest. She pointed to a chair opposite her and said:
– Sit. – I did. She leant forwards and said: – If Lorraine's father hears about this, you will be hurting for a very long time, but then, I'm sure you know that already, don't you?
The top two buttons on her blouse had either come undone or she had undone them herself but either way I could see the swell of her breasts and my cock stirred again.
– Er… yes, I know. Look, I'm truly sorry, things just got out of hand and… – She put her hand up and stopped me, saying:
– I don't want to hear your excuses. My daughter is still a virgin or had better be and that's how it should stay for now. I'm only too aware of what it's like to have your hormones pounding away inside you but there is a time and place for everything, and this is definitely not either of those two. I will not allow you to use my daughter as a guinea pig for you to learn about sex, is that clear?
I nodded a yes. She moved on the chair and her legs parted enough for her wrap over skirt to fall open which afforded me a view all the way up the inner side of her thighs. I could just see the gusset of her white cotton knickers which were creased along the middle. She saw me looking up her skirt and I went very red and started to sweat in fear more than anything else.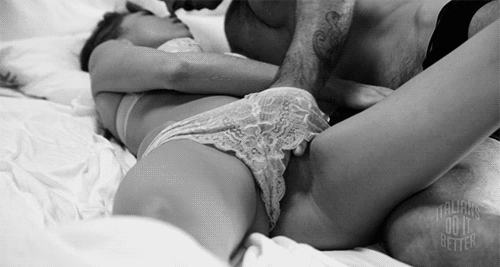 – Do you like what you see Peter?
– Er… what do you mean? – I replied hoping she wouldn't pursue the matter.
– I saw you looking at my crotch, did you like what you saw?
– I'm sorry, I didn't mean to look, I just couldn't help it. It was there for me to see when your skirt came apart, I'm really sorry. – I knew I was in trouble now without doubt.
Horny mother wanted a piece of me…
She came closer to me and her skirt fell completely apart showing the entire front of her knickers. I couldn't hide the fact that my erection was returning as it began to make a tent in the front of my trousers, and it wasn't missed by Wendy either. She took hold of my hand and said:
– Tell me truthfully Peter, are you still a virgin? – My eyes dropped to her crotch and I heard myself say:
– Yes. – She put a finger under my chin and lifted my face to look at me as she said: – I have watched you for the past two years whilst you have been dating my daughter and you have grown into a fine young man. You have a great physique which you displayed quite admirably this evening so here's what I propose. I will help you with your little problem of virginity, as long as you promise not to have full penetrable sex with Lorraine until I say so. If you don't agree to this proposal, I will let her father know what you were doing this evening, do we have a deal? – She took my hand and slid it to the top of her inner thigh then held it against the crotch of her knickers which felt quite damp.
– I… er… well, haven't a choice, have I?
– No not really – she replied and started to rub my cock through my trousers.
– Put your hand inside my knickers Peter and feel a woman's pussy instead of a little girl's. – I hesitated. – Do it – she demanded.
I manouvered my hand into the waistband of her bikini briefs and immediately came into contact with her naked, clean shaven mound, which was hot and sticky. She parted her legs further for me as I slipped a finger inside her, just as I've done to her daughter. This dry humping was everything!
– Put another inside me Peter, one's not enough.
Another finger joined the first without hindrance. God, she was soaked, much more than Lorraine ever has been. The hands in my lap had slid the zipper down and had managed to extract my now rock-hard cock from its hiding place.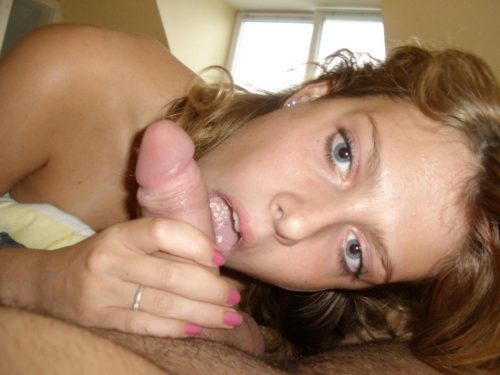 – Very nice – she said, then leant forward and took my cock way down into her mouth and sucked.
In no time at all, I exploded shooting my load down her throat. To my amazement, she swallowed the lot and sat up smiling. She pulled my hand out of her knickers, sucked them clean and said:
– I think we are going to get along just fine. Just remember, no full sex with Lorraine until I say so, and be available when I want you and my husband will never know about tonight. Now go back to Lorraine, she must be wondering what's happened to you.
I stood up to leave and realized that my flaccid cock was still hanging out of my trousers. I just managed to put it back and zip up when there was a knock on the door and Lorraine entered:
– Is everything okay mum? I'm sorry, I won't do it again, promise – she said with a tear in her eye. Wendy smiled at her and said:
– Peter and I have come to an understanding. I don't want you to stop your petting sessions; I know what it's like to be young and inquisitive, but please, do not have full sex.
– Oh mum – Lorraine said and gave Wendy a big hug – you're the greatest. – They were still hugging each other when Wendy gave me a wicked smile and licked her lips.
We all sat down and had a coffee before I eventually had to leave for home. I kissed Lorraine goodnight, got into my car and was about to drive off when I noticed Wendy run down the path to the passenger door. I opened the window and Wendy pushed halfway through which made her tits almost pop out of her top, and then said:
– Next time I get you by yourself, I'm going to fuck you rotten, just thought I'd share that with you.
She then returned to stand next to Lorraine and wave as I drove away bemused by what had happened but looking forward to my first lesson.
The next few weeks were educational without doubt, but that's another story!
You'll also like these stories: