[en] [black-cock] Big Black Cock Inside Hungry Married Pussy, in Front of the Hubby
Hi, My name is Karen. I'm 22 years old and married with no kids. I am blonde and 5'3 with a 34 c chest and 28 inch waist. I just got laid off and my husband's work can't pay all the bills we have, due to our expensive lifestyle. I started looking for work when I found something saying "inexperienced actors wanted". I thought to myself – that sounds fun.
I called the number listed and they set up an appointment with me the next day. I went for my interview and the guy there was very cute. He explained the job and that he needed a beautiful actress. He looked at me and said I'm very beautiful and would work out. He said the pay is around 50,000 to start and I said wow.
He now told me if I wanted the job, there is one small catch. I asked him what it was, and he said:
– We are making a movie with a lot of nudity and a lot of kissing and fake sex while nude. – I said that I liked a porn and said sorta just no sex. Just acting. I told him before I take the job, and that I need to talk to my husband about it.
That night after dinner I told me hubby about the job offer and the money involved, and we could get out of debt fast with this job. He was uneasy about me being nude and in bed with another man while he kissed me any place he wanted. My hubby said I could do it if I wanted, but he wanted to be there when we make the movie to make sure things don't get out of control.
The next day I went in and told them I would do it. He gave me the script and told me when to come in. I read the script when I got home, and it was about a married woman cheating on her husband with a black man. I said:
– Oh my God, I will be naked with a black man kissing him in a bed. I told my hubby when he got home what the movie is all about and about the black guy. He said:
– No damn way, not with a black guy.
I told him I already said I would do it and I really don't want a black man either but look at all the money I am going to make from it. He said OK, but he really wants to be there now to control things.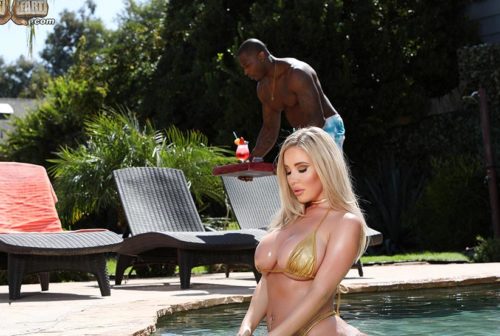 We showed up and the filmmaker didn't want my hubby there, but I told him if he is not then I can't do it. He said OK but not to talk or interfere. The movie started with me kissing a good-looking white man as he left for work. As he was leaving, he said:
– James would be by today to do the yard work.
In the script it was a very hot morning, so I put on a tiny little bikini and went to the pool to lay in the morning sun. I pretended to fall asleep when James came in to clean the pool. God, he was a big man! Like 6'8 and around 250, and full of muscles. He pretended to work around me checking out my hot little body.
That's when I was supposed to wake up and notice him. I said:
– Oh James, you're so sweaty and hot, why don't you jump in the pool and cool off? – James said:
– Only if you come in too and keep me company. – I said OK and jumped in with him. That's when I noticed my bikini was see thru when wet. James came up to me and said:
– Wow, you look awesome – and gave me a big hug. I had to push him away saying I was married. We played in the pool and he kept feeling up my tits and ass for a long time. Now was the time to get naked and James came up and yanked my top off me. I screamed and said:
– Give me my top back.
James went under the water and lifted me up and pulled my bottoms off. When I came down, he kissed me fully on the lips. Wow, his kiss was really hot and I responded back eagerly. I then pushed him away and ran in the house nude. James followed me closely and when I got inside, he grabbed me from behind with his big hands. His hands went to my tits and my nipples got rock hard and he fondled them. He was kissing my neck and mouth when I said:
– No James, I am married.
I pulled away and went up the stairs to my bedroom and he soon followed me up there
I was drying off with a towel when he came in and offered to help. I looked and said just dry me off. I went to work and was soon kissing my neck again. This time I tilted my head so he could kiss me. The feeling of his big lips on my neck was like electric shocks. James was sucking on my neck and I knew I would have hickeys, so I pulled away from him giving him a stern look. He grabbed me and started kissing me and I kissed back with a lot of passion, I looked at my hubby and he was wide eyed probably not believing I was kissing him.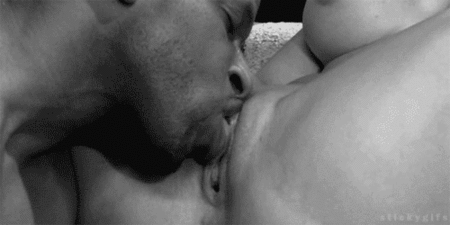 James pushed me on the bed, and I was supposed to pull the sheet over my naked body like I did. James got in bed and pulled his shorts off and threw them out from under the sheet. He was kissing me and then lower under the sheet. He was supposed to pretend he was sucking on my nipples. He soon had his big soft lips clamed over a very hard nipple. God, it felt good, but I pushed his face away only for him to suck the other nipple into him mouth. I was moaning and loving every second.
He now kissed his way down lower and I heard my hubby say that's enough. Someone said he is not really doing anything under the sheet and to calm down. James opened my legs and was kissing my thighs. He was not supposed to make contact, so I tried to push him away. He just kissed higher until his lips were on my pussy and it was on fire. I was so dam wet and he just licked and sucked away like crazy. I was moaning and moving around in heat as he ate the hell out of me. I heard someone said:
– God, it looks like she's really being ate. Look at her face.
I soon was cumming all over his black face and he was licking it all up. He now kissed his was back up my body till we were locked in a very passionate kiss. My legs were still wide open, and his hand came to my wet lips. He sunk 2 fingers into my cheating hole. I was going to push his hand away, but everyone thought we were just faking. Even my hubby did. God, I was cumming all over his figures. His fingers were bigger than my hubby's cock. I was really getting noisy now. He was kissing and sucking all over my neck leaving suck marks and I didn't even care just as long as finger fucked me till I came again.
James now told me to go and please him under the sheet. I kissed my way down and under the sheet. He had a second pair of shorts on and I pretended to suck his cock. I saw the bulge in his tight shorts and said what the hell, and rubbed it for him. I was not supposed to do that, but I did anyways. His cock grew and grew under his shorts. My god, was it fucking huge! His hands were on my head on the outside of the sheets pulling my face to his lump of hard cock.
I kissed his big cock through his shorts. James put one hand under the sheets and pulled his shorts down so his massive cock would be free. He put his hand back on my head and pulled me in. His cock must have been 11 inches long and very thick. I kissed my way up knowing I should not suck him, and we were kissing again. James whispered in my ear to go back and suck him. I said no and he said:
– Pleaseeee, it is so damn hard!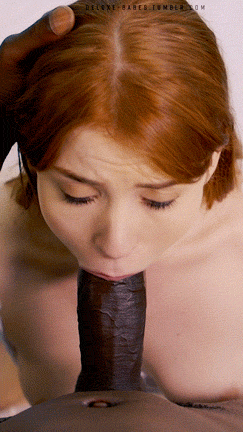 I kissed him and sank back under the sheet and kissed the head of his black cock. His cock was so warm and soft, but rock hard as I sucked it into my mouth. God I couldn't believe I was sucking a black man and with my hubby 20 ft away. I sucked half of it into my mouth and was really working him over when I heard my hubby say:
– Is he naked under there? – and they said:
– No, he has a second pair of shorts on.
Little did anyone know I had his big black cock in my mouth and eagerly sucking on it
James pulled me up and crawled over me like he was gonna fuck this married little wife in the movie. He pretended to put his cock in me and started to dry hump me as we kissed like lovers. James whispered in my ear that he wants to fuck me for real and I said:
– No, we can't, no protection and I am really married.
I put my hand down there and let him fuck my hand as he pretended to fuck me good. I was moving my hand when I felt his cock head touch my very wet swollen and soaking pussy. I used his cock head to rub on my clit and make me cum, and cum I did. I screamed as I came this time. 5 or 6 inches of coal black cock stuck out of my hand. I kept my hand clamped tight and aimed it at my hungry married pussy hole.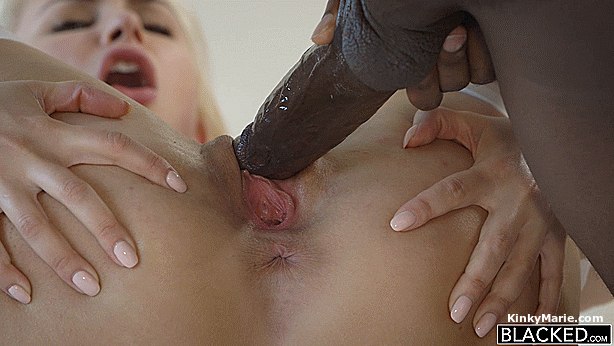 James pushed in as far as he could get, with my hand in the way and was fucking me hard and deeper than my hubby could without my hand there. I heard someone say:
– Now ride him. – I rolled over and clamped my hand over his cock and lowered down on it. I was making little up and down movements, when someone said: – You need to make it look real, with long downward movements. Act like he is deep in you.
I kept up the little thrusts until James pulled me down and kissed me. My hand slipped away, and his cock went in fully, knocking the breath out of me and making me scream noisier than I have in my whole life.
My god, he was deep in me. I started to ride his black cock when I remembered: no protection. He was in deep in my young fertile body and we were fucking like we were mating, not lovers. I whispered to him to pull out before he cums and he said OK.
We rolled over again, and he was on top of me, really pounding the hell out of my pussy. I was cumming with almost every stoke of his huge black baby maker. James started to kiss me and grunt. He said in my ear so everyone could here he was gonna cum. I looked at him and said:
– Cum in me, breed me James. Knock me up, give me your black baby in my white belly. – I was cumming all over his cock when he said:
– Here it comes! Are you sure? – and I screamed:
– Yes. We are not supposed to, but cum in me! Cum in me deep, baby!
I was cumming all over his beautiful black fuck stick, when James started to cum and cum and cum. My god, it was so hot, I felt every spurt of his molten black baby seed that shot right into my fertile belly. He pulled out with a pop I am sure everyone heard, and pulled his shorts up. We layed there and kissed.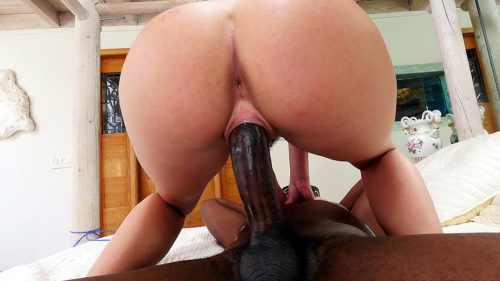 Then we were done. I was given my panties to put on under the sheets and went and took a shower. I had hickeys all over my neck and chest.
On the way home my hubby said:
– You made it look so real – and I thanked him. Little did he know it was, and I took his sperm in my hungry unprotected married pussy.
You'll also like these stories: