[en] [cuckqueen] I Got a Deep Throat From Her Friend As My Wife Instructed Her
My name is Harry and I am an obsessed bator. I take any opportunity I can to get a cock ring on and lube up my rock-hard shaft. This particular day my wife Abigail had popped out to go shopping for the afternoon and said she would be back with take away for tea. Now I know from experience that when Abi goes shopping, I've got a good couple of hours that I can safely play with my cock without the risk of her returning.
The minute I saw the car leave the street I was selecting which cock ring I would be using for today's session. I picked out a chrome finished metal tri ring and then drew the curtains and proceeded to remove my clothes. I slipped my balls into the rings and then pulled my limp cock through and got the rings comfortably into position. The effect on my penis was instantaneous as the blood was trapped by the pressure of the rings and my shaft rapidly hardened and thickened growing to its 6 1/8" length and 5" girth.
I poured some lube over the tip of my cock and as it ran down my shaft I used my hand to coat my now throbbing penis. The feeling of my rock-hard shaft is intoxicating to me and I was looking forward to a couple of hours of edging to porn before I would finally unleash my load. After a few minutes I had found a busty brunette on a cam site who's lovesence vibrator was driving her crazy from all the guys tipping her. Her massive tits were a big turn on for me and she had a fantastic looking labia, which I really wished I could get my tongue around. This was really engorging my penis and it felt huge in my hand.
Then, out of the blue there was a knock at the front door… Hopefully they'll go – I thought, but then another knock. Maybe it's a parcel delivery… shit, I'd better see. I slipped into my jeans and lay my erect penis flat to my stomach hoping that with my jeans fastened it would be less noticeable. I threw on my t-shirt and went to the door.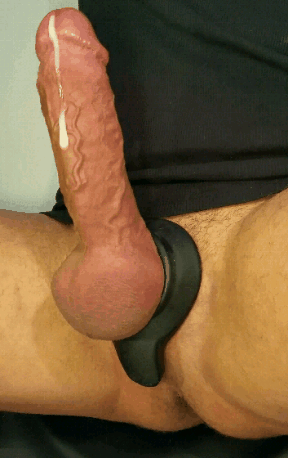 I opened the door just to see the back of a female as they were walking away. As they spun around I saw it was Jess, one of the wife's friends.
– Hi Harry, is Abi home? – Jess enquired – Ive brought her some mascara that she wanted.
– No, sorry Jess, she's popped into town to do some shopping. She'll not be back until tea – I said.
– Could you give this to her please? –  Jess said as she handed me a small packet. I wasn't sure if my still engorged penis was noticeable though my jeans and I wanted to get back behind a closed door as soon as I could.
– I'll let her know you called – I said as I started to close the door.
– Harry, could I use the toilet before I go, I'm desperate? – Jess asked. Reluctantly, I let her in and closed the door behind her as she came inside and went straight into the bathroom.
A minute later my jaw hit the floor as Jess emerged from the bathroom completely naked. She had a slim toned figure with fairly large breasts and I could feel the effect that was having as my cock was throbbing in my jeans.
– What are you doing? – I spluttered.
– I could see the bulge in your jeans and I thought you might want some help in relieving the pressure – she giggled – Abi tells me you like to play with yourself when she's out, you dirty boy. – As she approached me, I wasn't sure what to do.
– What about my wife, your friend? – I said.
– Don't worry she's knows what I'm like – said Jess – she's mentioned before that you'd enjoy me wanking you off. My mind was racing at this point.
What should I do, would Abi really be OK with me being wanked off by her pal?
The problem was my penis was getting harder by the second, the situation was making it throb like it had never done before. All reasoning was gone as my cock took over control of my mind.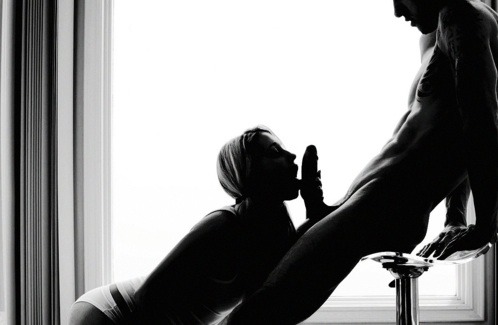 Jess was unzipping my jeans and she gave a little giggle as my cock leapt out.
– A cock ring – she said – you dirty boy, it's made you so hard – She took me in her hand and rubbed my shaft up and down. – It really is the hardest cock I've ever felt – she said as she dropped to her knees and took me in her mouth eagerly sucking.
I'd had some great blow jobs before from Abi but it was about to go to the next level. As Jess licked and sucked on my shaft she got further down my length. I could feel a tightness as my penis entered her throat and before I knew it her lips were around the base of my cock and she was licking my balls with her tongue. This was a completely new experience for me, she had got my full erect length in her mouth and down her throat. The feeling was intense. I wouldn't be able to stand this for long.
– Oh my god Jess – I exclaimed – I'm gonna cum in your throat if you don't stop right now. – She withdrew my penis from her mouth.
– You're not cumming until I've had that big thick cock inside my pussy – she replied. – That is the biggest cock I've ever deep-throated and I'm not sure I could cope with you cumming in my throat – she gasped.
– Really? I didn't think I was that big Jess!
– You're big enough – she replied as she got down on all fours and presented me with a view of her pussy and the most gorgeous labia. I got down and started to lick her, eagerly pushing my tongue inside her. She was dripping wet already and the taste of her was enough to make the pre-cum leak from my cock. I hesitated.
– I don't have any protection Jess.
– Don't worry, I'm on the pill – she replied, and with that I sunk my 6 1/8 rock hard inches all the way inside her. She gave a little gasp. – Oh, Harry, you dirty boy… it feels so good, I know why Abi married you, you have an amazing cock.
– Flattery will get you everywhere – I said as I began to slide in and out of her enjoying the feeling of her pussy squeezing my shaft. I was taking it steady as the effects of the deep-throating had brought me close to ejaculating and the pressure her pussy was applying was having a similar effect. She was moaning gently and I rubbed her clit which intensified the moaning.
All of a sudden the door flew open and in walked Abi.
– Oh my god – I exclaimed as the shock of what had just happened sent me into climax. I started shooting cum inside Jess and as I withdrew from her pussy my cock was still squirting my hot thick cum all over her pussy and onto the floor. Jess had climaxed at the same time, I assume for the same reason and she collapsed on the floor a quivering cum covered mess. Cum was still dripping from my cock as I turned to my wife.
– Abi, I'm so sorry, I don't know what came over me.
– I know what came over me – interrupted Jess – your amazing cock, are you ready for round two? – I looked in surprise, how could she say such a thing with my wife, her friend stood right there over us.
– For fucks sake Jess, you were only supposed to wank him off, look at you, his cum is still dripping out of your pussy you slut. – I couldn't believe it my wife had instigated this.
– I couldn't help it Abi, when I got his cock in my hand it was so big and hard because of the cock ring I just had to feel it inside me – said Jess.
– She didn't deep throat you, did she? – my wife said turning to face me. I nodded. How did she know? – I'm surprised he didn't cum in your throat – Abi said turning to Jess.
– I very nearly did – I replied – Jess said she couldn't handle it and wanted to feel my cock in her pussy before I ejaculated… my cock had control over me hun, I'm so sorry. – Abi turned to look at Jess who's pussy was still covered in my cum.
– As punishment for going further than we agreed, you are going to deep throat Harry and he is going to cum in your throat. – Again I looked in surprise, why was my wife doing this? My cock which had been getting softer since ejaculating was now starting to fill with blood again and I was very nearly fully erect.
– I can't manage it Abi – said Jess.
– You can and you will – replied my wife.
Jess got to her knees and started to lick the cum from my cock. She then proceeded to work her way down my now fully erect penis until I could feel the tightening again as I entered her throat.
– Don't give her any warning Harry – said Abi – just cum in her throat when you're ready. – Jess withdrew from my penis and took a breath.
– I can't manage it Abi, it's too big – she said.
– Tough luck Jess, you chose to go further than instructed. This is the consequence of your actions. – Jess once again took me in her mouth and deep into her throat. The feeling was intense. I looked over at Abi.
– Are you ready to cum? – she mouthed so Jess couldn't hear. I nodded. She walked over and put her arms around my torso and Jesses head and clamped her hands together. As she tightened her grip she forced Jesses head tight against my groin and in doing so my cock slipped slightly deeper into her throat causing me to climax.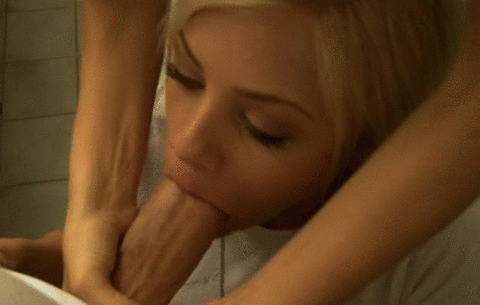 As I started cumming uncontrollably, Jess gagged and hot thick cum shot out of her nostrils and from around my shaft.
– You're going to choke her – I exclaimed – let her go.
– Not until you've finished cumming – replied Abi. Jess was making some unbelievable noises and I really thought I was going to choke her. I couldn't believe how much I was cumming since I'd only just filled her pussy a few minutes earlier. My orgasm seemed to go on forever, but eventually the last drop of cum seeped from my cock and I nodded to my wife to release her. Jess withdrew from my cock gasping for air, her face covered in my cum.
– Next time maybe you'll stick to the plan – said Abi to Jess. Next time? – I thought. The way Jess smiled and licked my cum from her face, I wasn't so sure she would be worried about sticking to the plan…
You'll also like these stories: