[en] A Titfuck That Didn't Feel Like Cheating
About the time I cheated on my fiancée to try out something new. My name is Ann, I'm 21, and last week was the first time I have ever done something like this, like a regular titfuck…
While my fiancée goes to work I usually go to university, but as of lately he stopped showing me sexual interest and I was really getting desperate.
As I went on my daily routine Jay guy from my semester stopped me and asked if I wanted to study with him after classes were over. I refused at first but since he was insisting that I come and I pretty much needed to get some studying done, I reluctantly agreed. We met at his place at around 6 PM so after giving my fiancée a text I entered his home.
Everything was neatly organized and it looked like he cleaned very recently. This alone kind of turned me on already but it was nothing that I could not repress for now. Though it made made matters worse that he kept flirting with me, instead of actually putting effort into his studies. The way he started to talk to me drove me wild, so I started to give in and told him to have his way with me.
He came closer and gently unbuttoned my blouse and then gave my cleavage a kiss before taking my blouse and the tank top off I wore under it, leaving me with only a black push-up bra. Then he pulled his pants down and asked me in a sweet tone to please play with his shaft. His penis was not the biggest once erect, though his balls felt heavy as I ran my fingers through his genitals cupping his testicles in my hand and trying my best to massage it.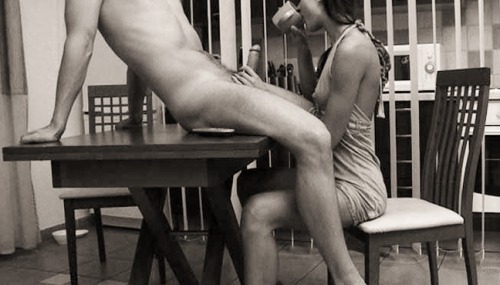 After the initial foreplay and him rubbing and massaging my breasts he took my bra off, showing him the full glory of my natural C-cup and stood up afterwards. The tip of his cock now leaking from precum which I, of course, kicked off immediately. He would then rub his tip against my sensitive areolas, then pressed it into my nipples.
I probably was so turned on already that I moaned out in pleasure as he playfully had his way with me. Engulfing his penis in my breasts, I continuously pressed them against him, massaging, rubbing and teasing him along the way, which from his impression, Jay liked a lot. And since my fiancée never does anything except for missionary without foreplay if we have sex, I sure as hell enjoyed it as well.
So, the titfuck didn't feel like a real cheating…
Now picking up my pace, I wanted him to explode within my cleavage, so I rocked my boobs up and down harder. While it took a while for it to happen the sensation this gave me was incredible. His smelly juicy love spread with a few loud moans and a bit of heavy breathing across my breasts, kind of covering them with it.
Rubbing it over my areolas and nipples as ran my finger through this gooey sensation I backed off and gave his cock a peck, tasting some leftovers of his delicious semen.
As I started to get dressed again I kept stroking his now sensitive cock, playing with his tip with my fingers every now and then. As he was about to cum again I made sure each of my bra cups were receiving more of his love. The feeling of my cum filled bra and my boobs pressing against it got me off even further.
Now fully dressed and with cum in my bra I said my goodbyes and pecked him on the cheek, scheduling our next "study session" and then I made my way home… With my tired fiancée, none the wiser of any of this.
You'll also like these stories: