[en] [cuckold] I Share Her With Other Men and We Both Like Doing That
My sexy, horny and gorgeous 33-years-old wife Natalia (36D-26-40) has always liked men older than her preferably from 40 to 65. Two months ago she told me she had developed a sexual interest for much younger men, between 18 and 28.
She has never been with anyone younger than her lover of every other week, who is 25. He comes to our house and makes passionate love to her in our bedroom and living room every other weekend while I watch. He absolutely can cum again and again and leaves her very satisfied. We all love it. We do have a policy of one room only.
Every time I have shared her it has been with an older man, except for Esteban, her 25 years old regular lover. It has always been with me watching.
These holidays she went out of town for a month and a half overseas to spend the holidays with family. I could not go. Today the chatted me and told me she has been more and more extremely horny. She told me that she needed to tell me something but did not want me to get mad. I assured her I would not.
She told me there is this 18-years-old kid at the apartment, Samuel, who is the nephew of her brother in law, that is very attracted to her. Last night while all the family was in the living room and in the balcony she went to the back of the house to look for some reggeton music she had copied in a USB key. She was wearing a low cut tank-top, and a short skirt.
Samuel followed her and when they were out of the look of the others he jumped her, kissed her passionately, and caressed her breasts and her tights. She kissed him back and let him touch her. She was very horny and wanted Samuel to make love to her right there and then. However, the proximity of the other people kept her from doing it.
My horny wife wanted a good fuck for a long time, and I was eager to share her
She told me that Samuel is tall and muscular, and appears to be well endowed. He is very aggressive and she liked that. She told me it was hard for her to control herself and not to make love to him right then. She also said she will tell me all they do. Mmmm, I love this.
Natalia told me that after that Samuel and her went to the balcony where they could talk. She told Samuel that she would discuss their desires with me and ask me if she could make love to Samuel. She told Samuel that I share her with other men and that we both like doing that.
Today when we chatted and then talked on the phone I told her I was not mad, that she indeed can make love with Sam, and to enjoy it. Since there are too many people around at the apartment I suggested Samuel and her go to a hotel or the apartment of a friend of his. I told her I will suspend our "one room only" policy since I am not there and she can be with Samuel – or other young studs – without me being watching – but she will need to tell me all the juicy details. 🙂
I know that being 18, Samuel will give Natalia plenty of what she likes: sex, cum, more cum, cunnilingus, and back door entry. In positions that she probably has not tried before. I am very happy that she will enjoy one of her desires, making love with a younger male. Maybe Samuel has some young friends that like a 33 years old woman. 🙂 And Natalia will be there for five more weeks.
Mmmm, how many young studs will she enjoy? 🙂 Knowing her and how horny she is, that is going to be at least 3 per week. 🙂 Mmmmmm, I wish I could be there to watch and to lick her clean afterwards. 🙂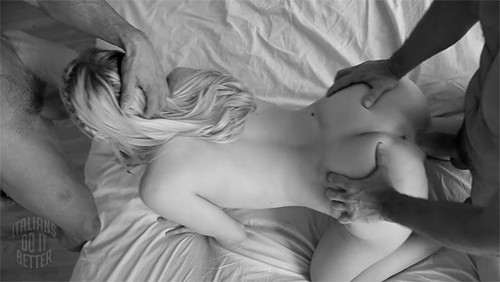 You'll also like these stories: