[en] He Fucked My Asshole while My Husband Was Sleeping
Sometimes you just got to bend over and take a good fucking. I know I did. Right in my asshole.
My name is Missa. It's not short for anything. That's just what my mother named me. I'm the mother of three lovely children and a loving wife. On this day my son's best friend Jace caught my eye. At first, I just passed it off as not getting to finish what my husband I started this morning.
But, as the day went on kept catching myself eyeing Jace more and more. The thoughts that I was having were not very lady like. But, I figured after everyone left I would be able to take care of them with my husband. So, I kinda let my mind wander into the forbidden zone. What I didn't plan in though was my husband getting drunk. That made things take a wild turn.
– Mrs. Martin would you like a hand getting Mr. Martin home? – Jace asked always in his polite manner as I stood looking at my husband, who couldn't even stand.
– I guess I'm gonna need it – I said in a deep breath looking at my husband. Once Jase helped me get my husband in the car I told him to get in. – I'll bring you back – I smiled looking at the concerned look on his face.
Jase is not an overly outgoing young man and kinda shy. Jase and I had a nice conversation as we drive and I was enjoying his company. Even though I was having some very nasty thoughts about him as we drove.
Once to the house, Jase helped me get my drunk husband out of the car and into the house and into bed where he instantly started snoring in a drunken slumber.
– Well, thank you, Jase- I chuckled as we both looked at my husband in amusement standing in my bedroom. And this is where things changed. I stepped forward and grabbed the footboard of our bed, leaned over, and poked my plump 34-inch ass out. I guess Jase took it as an invite.
I didn't jump when he grabbed me by my hips. I just looked over my shoulder at him and turned back to looking at my snoring husband. Jase took that as a yes. Slowly he unzipped my skirt and I wiggled my hips to help him as he slid it off me. Kicking my skirt to the side I smiled.
Next came my panties and again I wiggled my plump hips as he slid them over my mature ass. With my panties around one ankle, I speed my legs wide and poked my ass out, and arched my back in anticipation of what was to come. My heart was beating out of my chest in lust and thrill. Here I was, thirty-nine years old bent over the foot of my bed freely giving my pussy and my asshole to a nineteen-year-old kid as my husband scored less than six feet from me.
I sucked in a sharp breath when I felt Jase's warm breath on my pussy lips. I couldn't believe he was doing this to me. Right here in front of my husband. But, I wasn't gonna complain. His tongue felt very, very nice and I was to horny to stop him if I wanted to. I almost squealed when he ran his tongue across my puckered asshole. But, instead, I just hissed:
– Fuck yes! – In a soft tone. Jase stayed with me till I came in his mouth. Which only took maybe three minutes and I was quivering in ecstasy.
My pussy was so wet Jase slid into me most of the way with ease…
Jase's dick wasn't any longer than my husband's. But, it was a lot thicker. I liked the way he stretched me open. It felt wonderful. But, by the third plunge Jase's balls were slapping my clit.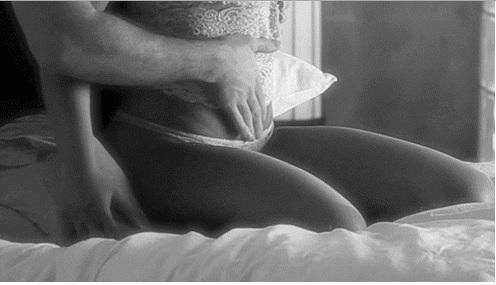 – That's it – I moaned in pleasure – Fuck my nasty cunt with your big cock. Take me!
Jase had changed things up and was driving into me with hard, powerful strokes as my pussy juice ran down my thighs freely and I grunted and panted in carnal lust. I didn't care, my husband was snoring less than six feet from me. All's I cared about was Jase's big cock driving into me. At that moment that's all I wanted. I wanted all of him inside me.
As Jase pounded into my mature cunt he started rubbing my forbidden hole, my asshole. It felt so good. I leaned forward a bit and rolled my ass up to give him a better angel at my naughty hole. Which in turn put his big cock at a way better angle. Jesus, was he fucking the shit out of me and I was loving every minute of it. Then I felt the warm of was of spit hit my puckered asshole.
– Fuck yes! – I moaned in need. It was one finger at first. Then a second in my asshole as he continued to drive into me. – Cocksucker! You motherfucker you're making me cum! – I growled breathing hard enjoying have my asshole pried open. Then there was some more spit and a third finger in my ass. – You fucking cocksucker. You're ruining my asshole! – I hissed as I started quivering in orgasm losing control of my body.
The harder Jase tucked me the deeper he shoved his fingers into my asshole until he could a hive them no deeper into my stretched-out asshole. Never had I ever been such a slut in my life. But, things and the way Jase was doing them to me, I couldn't help it. It felt so fucking good. Besides, he had already fucked me longer than my husband had in years and wasn't showing any signs of giving up anytime soon. Jase started pulling his fingers out of my ass and then would shove them back in as deep as he could hard. Then he would spit right in my asshole.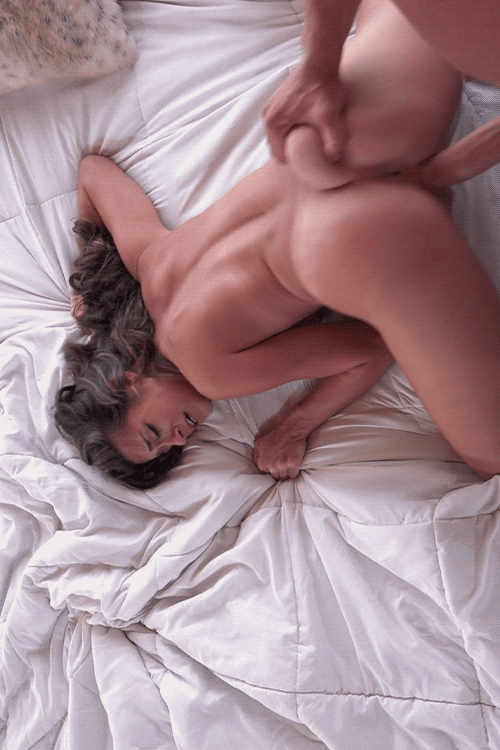 Each time his fingers slipped into my asshole easier than the last. He kept up until he had no resistance left when he shoved his fingers up my asshole. When he pulled his cock from my dripping twat I cried out in fright:
– No! No! Keep fucking me! – I begged. Jase wasn't quitting me. He was just changing holes. First, there was a large wad of spit then he was pushing his thick cock into my asshole. – Fuck me! – I hissed as Jase enters me. – You son of a bitch! God yes! Banged my bitch asshole! – I whimpered in need.
I don't know-how. But, Jase fucked me in my asshole way differently and way better than he did my pussy. From the moment his prick slid into my asshole, I was coming.
Jase grabbed a hand full of my dark hair and swatted my ass as powered into my guts sending me into orbit. When Jase grabbed two hands full if hair that's when he really started powering into me and I knew I wasn't gonna last much longer.
– That's it! – I begged. – Fill my asshole! Fill my asshole with your cum.
– You dirty bitch! – Jake growled.
– Yes, pound my dirty fucking asshole. Shoot that nasty cum in my guts –  I growled in need.
– Fucking your asshole is tight – Jase grunted.
– Stretch my motherfucking asshole out! – I hissed. – Cum in my fucking slut guts! – I finished.
Jase plowed into me twice more than buried his cock in my ass and filled my guts with one hot blast after another driving me into a very powerful orgasm. I sprayed cum all over Jase's balls and down both my legs.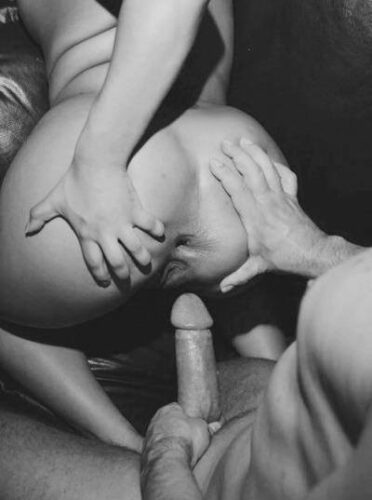 – Jesus fucking! I'm coming! – I cried out as I started falling to my knees shaking and convulsing.
When I looked up Jase was leaning on the end of the bed with sweat dripping from his forehead and breathing hard. The next thing I saw was his big cock still hard and dripping with cum.
I figured – why not and reached up and grabbed him big that marvelous prick, pulled him to me, and sucked him clean.
To this day I do not know how my husband never woke up. Because I wasn't all that quiet. After I came down off my orgasmic high I pushed Jase out of my bedroom and cleaned up a bit.
– The next time you decide to fuck me like that, make sure my husband isn't home. – I smiled as we stood in my kitchen.
– Is there gonna be a next time? – Jase grinned at me.
– Most likely not – I grinned at him.
Like I promised. Gave Jase a ride back to his car. It just took a little longer than it should have. It was my turn to take advantage of him.
I bet he will never get another slow job like he received that day as he stood looking down at me on the side of the road.
Jase is the only man I have ever cheated on my husband with. Jase is also the only man I have turned into a total slut with. I think from time to time about it and wish he would just show up and take me like he did that day in front of my husband. I have his number and I see him around.
Who knows. Maybe someday it'll happen again. I will say this much. If he asks I won't turn him down.
You'll also like these stories: