[en] [cuckold] I Watched Her Being Fucked by Another Guys
On a wild night out with friends, we drank a bit too much, and rather than going home, we went to another pub for a few more drinks. Our kids were with my in laws so, we wanted to make the night as long as possible.
Tanya was her usual, very attractive, smiley and cheerful, probably a bit more, given the alcohol in her system. As we leaned over the counter for drinks, Tanya bumped into an old guy, who hugged her as she tripped and was about to fall. More as an accident, his right hand landed right on her breast and as she was getting composure, he could not avoid giving her breast a big shake and squeeze. A bit embarrassed, Tanya thanked him, and the guy just said:
– I really liked it and will pay you both drinks.
Mike was married on a business trip and was just cooling down after a very busy and stressing day. After a few moments we felt very comfortable and Mike start getting into sex life conversation… He invited us to go to his room when the Bar was about to close, and before we said anything, he hugged Tanya and started walking out of the door. As they were walking, I felt fear of the situation and what it could lead to. At the same, I was very excited and felt my cock growing and pulling my hair. 7 years married and suddenly, we were in danger. Tanya was probably a bit too much drunk and was not even thinking.
Got confused with old thoughts and fantasies I had when I saw other men sneaking her breast and body and got hornier. Never thought, however, about my wife having sex with other men. And as they were walking a few steps ahead of me laughing, I felt like taking it a bit further.
Into the room, Mike showed me the minibar and asked me to organize drinks. Mike then kissed Tanya and start getting rid of her blouse. Tanya fought back without any conviction and soon Mike was sucking her breast, neck, ears. She was moaning. I knew that, after that, she would be weak and too horny to stop. Thought about stopping. That was my last chance. Before I made a decision, Mike released the button of her jeans, zipper down and introduced his firm hands into my wife's pants.
I was too excited to stop it now…
Tanya bulked and let it go. Mike dropped her paints to the ankle and followed by her panties… After all that, Tanya was ready, but Mike could not get an erection and only sucked and fingered her pussy. He wanted us to stay, so he could do it in the morning before he flew away. Maybe out of embarrassment, Tanya just wanted to go away.
On the following day, Tanya was very confused, ashamed and somehow disappointed that she went that far with a man, something she had never thought, and was not fucked. She could not believe that Mike could not have an erection for her, after all, she was very attractive. What was supposed to be maybe a single night adventure ended up being the first – Tanya now wanted to have a real one, she wanted to feel another man inside her.
On Sunday we went for a picnic with our friends and was just observing how much attention Tanya got from our male friends. Maybe there was something in the air indicating that she wanted to get laid! Kids running around and those men eyes following Tanya's body. I was getting crazy. Did not want Tanya to be with other men, but in fact, she had been! She was sucked and was fingered, so what was that. From my side, that was an unfinished business.
For the whole working week my mind was wandering around. On the weekend we went out with our friends to a club. Tanya was very excited and after a few drinks she became more daring and provocative. She was teasing all the men in our group of friends and did not go unnoticed by some other men. I noticed one guy telling Tanya something and she laughed. Later on, she told me the guy wanted to suck her pussy and fuck her really hard. I noticed that he was looking at her and approached her for some small talk. Tanya was smiling.
When it was time to leave, we said goodbye to our friends and after they left, we went back to the club. I excused myself and went to the toilet to let her stay by herself for a while. From a distance I saw the guy approaching her. They talked in an animated fashion; Tanya, swaying her long blonde hair and expressing her sexuality.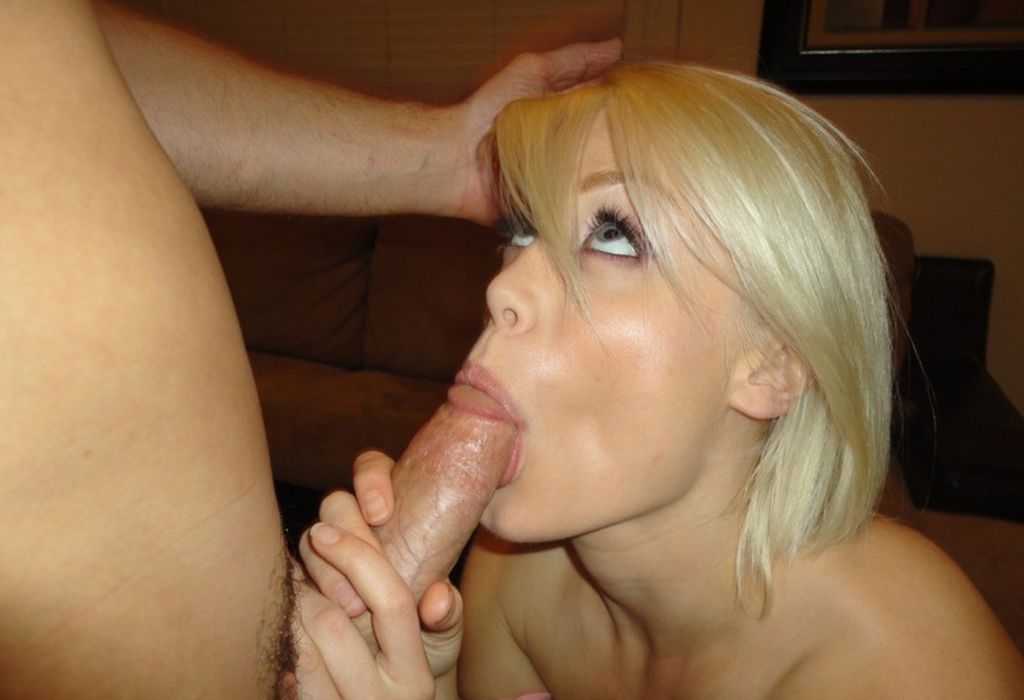 When I got back, Tanya introduced me to Alex
– Your wife is really hot, and I can't wait to fuck her. Let's go to the hotel down the street.
At 35, Alex knew what to do with a 36 year-old hungry woman and husband. We walked in the room, Alex grabbed Tanya's head and pushed it down…:
– Now, suck my dick bitch.
I knew then that Alex was going to be a very dominant male and would treat her like any other women he had.
After preliminary work, Tanya laid on the bed. Alex opened her legs wide opened and I could see her lips gently opened and a bit of pink in between. As he rubbed his head in her lips, she said that he was going to be the second man in her life. Alex laughed:
– I am sure I will be your first real man – and slid his cock into her vagina as she moaned with pleasure.
Tanya came 3 times and Alex exploded inside her. They had a quick shower, stayed in bed for an hour or so, and Alex started all over. This time he wanted her ass and was glad to know it was her first anal experience.
Tanya was doggied. Alex plunged deep and hard. He exploded inside her, removed her cock, and looking at her dilated anus, he asked me to look at the damage in her asshole. He lowered Tanya's ass and was waiting for her ass to cry leaps of his cum.
How pretty is that he asked me! And it was pretty to see his cum sliding out of her ass and dripping on the bed. Alex had another shower, put his clothes and said:
– Good bye.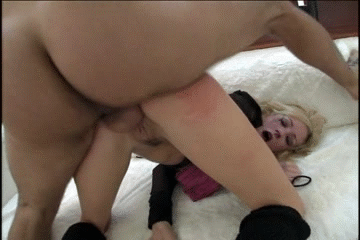 Going back home, Tanya told me that it was great, and she felt like a real woman. She did not mind that Alex just used her to his pleasure and did not actually sucked her pussy as promised. She had her fair share. She had multiple orgasms, like never before. Although exhausted, she was light and happy. She said that was it.
A few days later she brought the subject up and asked me if I minded just one other time only. Given that she already had more than one man, it was easy to continue on.
For 2 years, Tanya and I repeated our routine. After about 80 different men in maybe 8 clubs, she was at the point that some club managers already knew her and were giving her free drinks on the house. It was time to stop, as Tanya was a mother and did not want to have a reputation. It so happened that a couple for months later, a friend of ours had an affair and his wife June forced him out of their home. Tanya was very close to June and Mark asked me if it was OK for him to talk with Tanya and try to get back to June. No problems Mark.
One coffee night became two and soon Tanya was seeing Mark twice in the same week, in his place. As I asked, Tanya confessed that they were having an affair. After the first night, it was easy to see they had fire under the skin, and they have been having sex for a couple of weeks.
Four months later, Mark was back to June and still going out with Tanya. Felt jealous as June was pretty attractive, as well. Found funny going out in a group knowing that Mark was fucking my wife. Initially had some admiration, which became certain subservience as he knew that I did not mind, and actually would help them get together even when June asked me whether Mark was at home. He would go for drinks and after the kids went to sleep, he would come and spend a couple of hours with my wife.
After 1 year, the affair was over. More stories to come.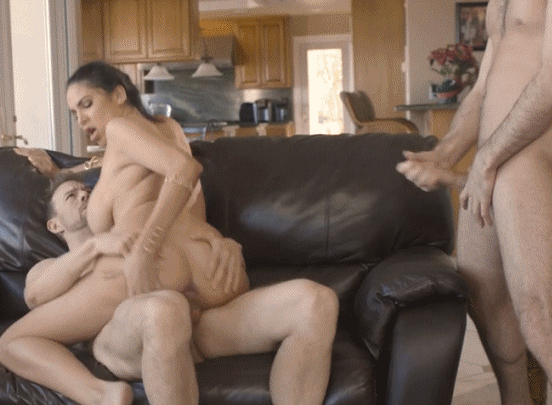 You'll also like these stories: